I had these photos showing a little action with oil service. The Mogollon Railway has converted it's locos to oil and now movements with an oil tank car have been incorporated into the scheme. The tank car is filled from a tank truck down at the yards and then begins it's journey to the smelter where it will fill the oil tank there.




The tank car is being pushed up the line with Shay #1 and a 10 foot pole. In the foreground is the Boquillas Prismoidal Railroad (monorail) which takes silver ore across the border for processing.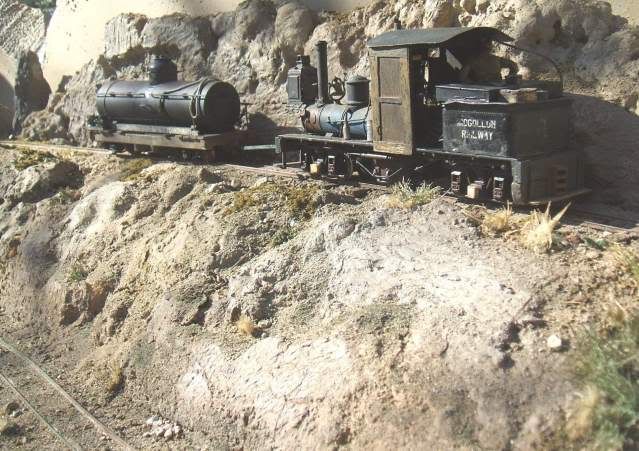 #1 and tank are on the heavy grade outside Mogollon. The loco is pushing the car since the loco's brakes can keep the car from running away if a pin or link fails.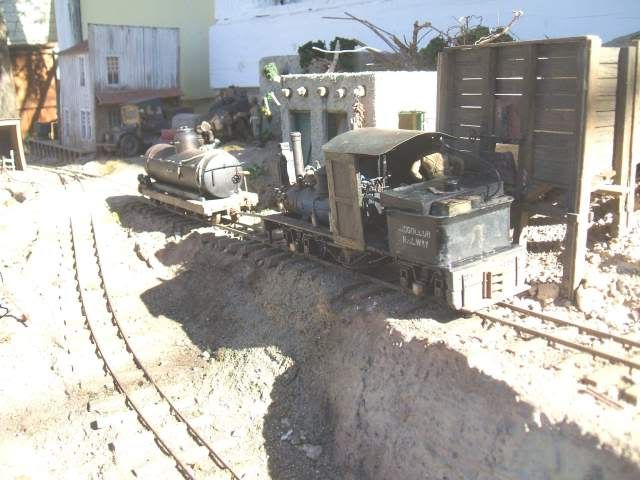 The one car train rolls past the cantina and miner supply on Chahuahua Hill. The hoist trackage to the left is to service 2 mines down in the canyon, shown earlier in this series.




The tank car arrives above the smelter, to be unloaded at the fuel facility there. The hose will be hooked up to the FM pump on the tank car and run up to the tank (underframe shown). This operation must be done at least 3 times a week (in real life) and maybe once during a "normal" operating session. These photos were made during nice fall weather, more will follow as soon as temps get higher and winter moves out. Switching the mines will continue. Woodie


Last edited on Sat Jan 2nd, 2010 02:18 am by W C Greene



____________________
It doesn't matter if you win or lose, its' how you rig the game.