Dwayne
MI Railroader wrote: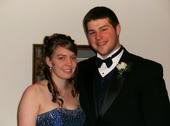 My Then Girlfriend and now Fiance Desiree and I before my senior prom....only about three years old...i think ive gained weight



Three years old is a bit young to get married don't ya think?


My wife gained 155# when we got married. And a constant pain in her a**.


____________________
 
"If the women don't find you handsome they should at least find you handy".