rgseng
| | |
| --- | --- |
| Joined: | Wed Oct 20th, 2010 |
| Location: | West Grove, PA |
| Posts: | 48 |
| Status: | Offline |
OK, you want more, you got it.

Here's a shot of the switch list.
It's generated on my computer by a program called "TrainOps".

It was developed by a couple friends of mine,
who frequent the LargeScaleCentral forums.
It's still a Beta-Program till we get the bugs worked out,
but it seems to do the job that was intended.

It's mainly for 1 or 2 man operations on branch lines or short lines,
although we have had as many as 4 operators at one time using it.

Their is another computer program out there called "RailOps",
which can handle up to 10-15 operators at one time.
There are 2 guys I know that use this one,
but they have much bigger layouts than I do,
and both have regularly scheduled operating sessions.






We've arrived at Hesperus.

Here's what Hesperus looks like.






As you can see from the picture we have a switchback arrangement here.

In order to get to Chandler's Mercantile,
we have to empty out the leads to Goldings and Bergs,
before we spot any cars at Chandlers.

The lead for Goldings can handle one loco and one car at a time.
If more than one car has to be spotted at Chandler's or Bergs,
it has to be done one car at a time.

(ya didn't think this was going to be easy, didya?)

Let's see what we have to do ...







At Chandler's we have to pick up a flat car,

and at Golding's we have to spot a boxcar,

so lets get the flat car out of there first.






It's a short flat car and we may have been able to spot the boxcar at Goldings,

but rather than making extra moves,

we'll just get the flat car out of the way.






The flat car gets left out on the main line in front of our train,

so it's out of the way for now.

The next move is spot box car 3506 at Goldings,

which happens to be at the front of the train, since we just picked it up in Mancos.






After spotting 3506 at Goldings,

we can now pick up the 4 cars going with us from the LCL track at Hesperus,

and spotting box car 8729 at the depot.






The car we need to drop off is the one in front of the two hopper cars,

so we can pull up to the switch and uncouple those 2 cars,

and back 8729 into the depot.






Having finished our assignment in Hesperus,

we pull up to the tank and top off the tender,

for the trip to the Coal Creek Lumber siding.






The Grist Mill has a loading dock out on the main line,

and is more or less, a LCL location.

The train will wait while cargo is loaded.

At the lumber company we have one car to pick up,

gondola 1838.






All we do here is uncouple,

move past the switch,

then back down and grab our car.

With that done we can proceed to Burns Jct. Interchange.






Burns Jct. acts as our access to the outside world.

It's the window above the train.

It's also the fiddle yard and car storage inside the garage.

To the left of the window is Mills Mining and Manufacturing.

Nothing to do there.

According to our switchlist, this is where our train terminates.






Due to the 3% grade, and since we're only using a light 10 wheeler,

we're only able to move 3 cars at a time to the junction.

It's a trailing point switch, so we back up the grade.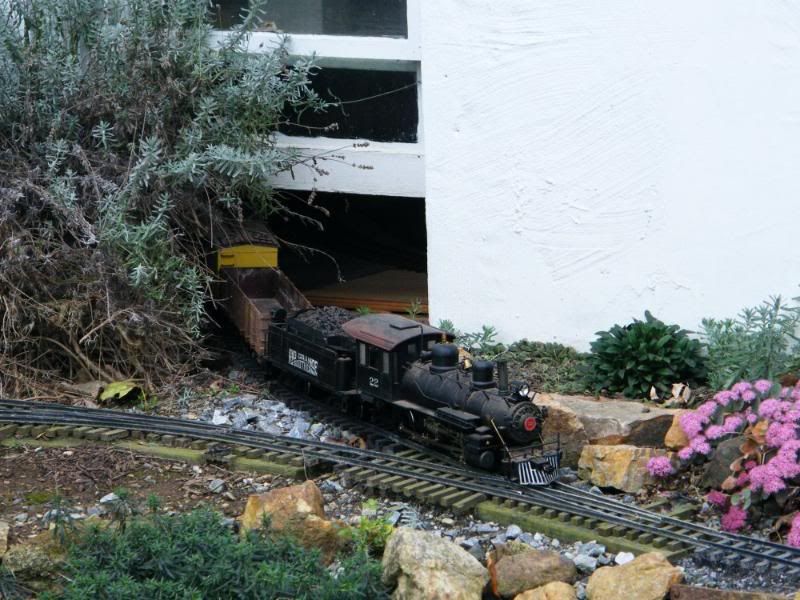 On the last move, I cheated and took the caboose with me

(it looked like it was going to rain, so I was in a hurry)

Normally the caboose would go with the loco back to Delores Yard for servicing.






And so ends a day in the life of a R.G.S. engineer.
I hoped you all enjoyed my little presentation,
and gained a little insight on how operations can be done on a garden railroad.


Thanx for watching ...


In case anyone was wondering what the fiddle yard looks like,
here's a shot ...






It extends over to the left also,
and since it gets pretty full, the only switcher here is an 0-5-0






Left side ...