Bill Fornshell
Chicago Transit Authority (CAT) (1947, 5001-5004 series) 3-Car Set

My Model will be a "Freelance 3-Car Set" Kit-Bashed using 3 PCC Trolley models.

A member of the local train club I belong to gave me 10 years of Railroad Model Craftsman magazines.  

In a Sep. 1994 issue of RMC, page 111, I found an advertisement for a "CTA-5000  3 Car Articulated set", in Brass.  

1.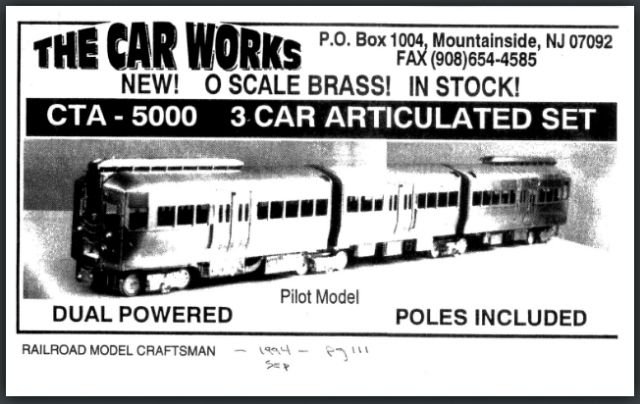 2.



I did a search for more information and found pictures on several web sites and it seems this version of the CTA-5000 series set was used from 1947 (?) to at least 1977 (?).  

This link has a bunch of pictures:

http://www.chicago-l.org/trains/gallery/5000s04.html

3.



After looking at a set of drawings for the CTA-5001-5004 cars I pulled out a Funaro & Camerlengo kit of an HO Pacific Electric PCC Car and compared it to the side view of the CTA 5001 drawing.  

4.



5.



I lined up the PCC body shell up with the drawing of the CTA-5001 using the side doors as a reference point.  It looked like I could cut the front and back ends off the PCC model leaving 4 windows forward and 5 windows toward the back.

This would give me a "Lead" unit that looks close to the "Lead" unit on the CTA 5001-5004's Prototype. Then for the middle unit I would leave 3 windows on one side of the doors and 4 window on the other side.  

For the top and ends I would make or modify new parts as necessary to look like the CTA 5001 - 5004's.  That would leave a few smaller details and a way to power the models.

6.



7.



The top on the PCC donor was a bit lower then the top on the CTA-5001. I have added several pieces of Styrene to the top of the PCC donor. After some filing and sanding I have something close to the prototype top.

8.



9.



10.



11.



Thinking ahead a bit I plan to power the 5001 Three Car Set with NWSL Stanton Drives along with the Stanton S-CAB Radio Control System.

I expect to be running Battery Power only, no provision for track power. My Battery will be removed for charging as required.