jtrain
Woodie,

I've had one heck of an afternoon taking up your challenge. By the looks of it, there has been a lot of suburban sprawl in Silver City to the pint that most of the ROW on the south end of the line has been obliterated. However, in the more mountainous Northern half of the route, the ROW is preserved either by having an existing road use the same route or by simply having cuts and fills along the mountain side which show up as highlights and shadows.

There are still a few pieces of about 1/8 to 1/4 mile length I'm not certain about. In order to make sure I had as much accuracy as possible, I went with Internet search which brought photos and a map of the hairpin turn area. While the hairpin turn is impossible to see from the air, I pin pointed it's location by using a map from a previous free rails thread: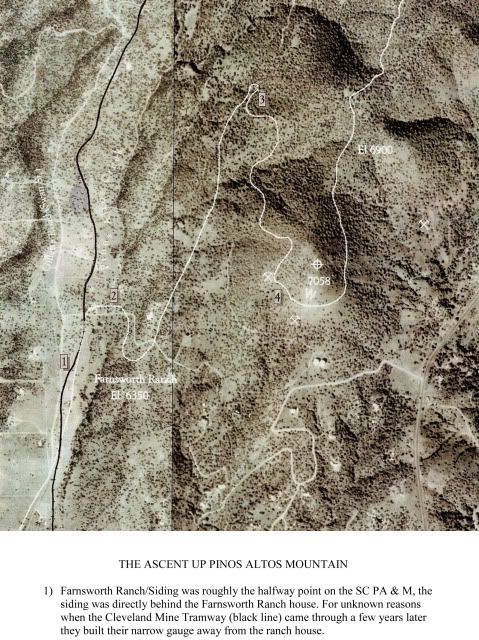 I used the large 'W' on the side of the hill as a reference and Pinos Altos Rd to the large W to gauge distance.

After I got Google Maps as close a possible to scale and location of the map above, I proceeded to pin point certain areas of the rail line and viola!

I'll post some other closeup shots that I used to mark the route in detail. The map below shows everything for the north end of the line.




The line is a challenge because the soil appears to erode quickly, there's about 200% more foliage between the old map and the current Google Map images, New housing has tilled up the old ROW in several places. Not to mention I'm looking for the ROW of a 2 foot gauge line which left a significantly smaller footprint than a standard gauge line or even a 3 foot gauge line.

However the route has some great advantages I'd love to see more when tracking ROW's. Firstly, many roads in the old aerial view are still there and follow the exact same route which make for some easy reference points. a few of the old mining structures are still standing, or their foundations can at least be seen. Most of the mines being next to the track, they act like checkpoints when mapping the ROW. The large W really helped determine a lot of the ROW since it is so prominent.

Shadows also remain roughly the same, unlike places such as the Black Hills or Minnesota where differences in foliage and season make for vast differences in what is seen through Google Maps.

The south end of the route, I hate to say, is very difficult and/or impossible to make out due to all the new housing. I found hints and pieces of the ROW in Chloride Flats, but I can't make any connections. to CF and the hairpin turn area I managed to find.

Also, it looks like you could still walk the Northern half, or use a Bike or small JEEP for much of the way, I don't see any fences or houses in most of the area.

--James


____________________
James W.

New Blog (permanent this time)

blackhillsrr.blogspot.com