This is related to the other thread about the "Prototype" Lisbon Trams:

http://www.freerails.com/view_topic.php?id=6011&forum_id=43

I am a member of the several European Tram yahoo groups. Several years ago someone posted a series of pictures of the Lisbon - Small Yellow Trams. I liked them and the narrow streets where they ran. I started a file for their pictures and videos. Then a few months ago another series of pictures and a couple of newer videos were posted. I did a computer search for "Lisbon Trams - Images" and found more. I also found a link to an ebay sale for an HO scale model of both the Yellow and the Red Trams. The seller was in Lisbon, Portugal. He was selling both static models and models that he was installing a small N scale power truck in.

The models are 1:87 but run on 9mm (N scale size) track. You can find the Trams "listings" by doing an ebay search for the key words "Lisbon Trams" if interested.

We exchanged many emails and I decide that since I had some of the same size power trucks as he was using, I could install my own.

You can pack up to 8 of the static models in a small box before the shipping bumps up to the next $$ amount. I ordered 5 of them.

Today, after 12 days, they arrived from Lisbon, not bad for the distance.

Since some of these Trams also carried a Pantograph and I had some similar, I might install them on a couple of mine.

I had to take one apart. The body is some kind of cast metal and the rest is plastic.
1.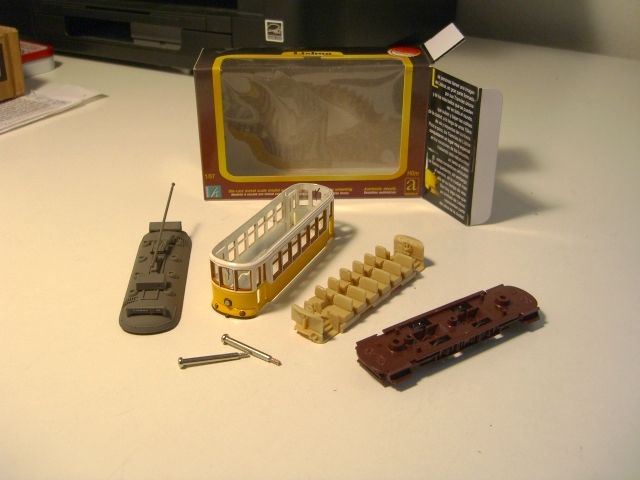 2.



I have 10 Pantographs like this one and might install them on a few of the Trams
3.



4.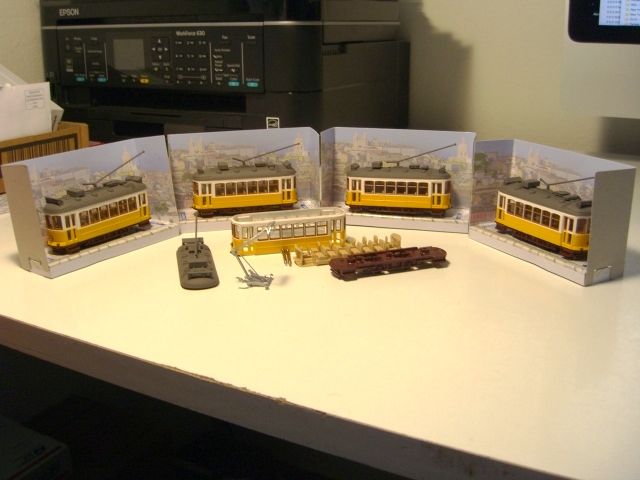 5.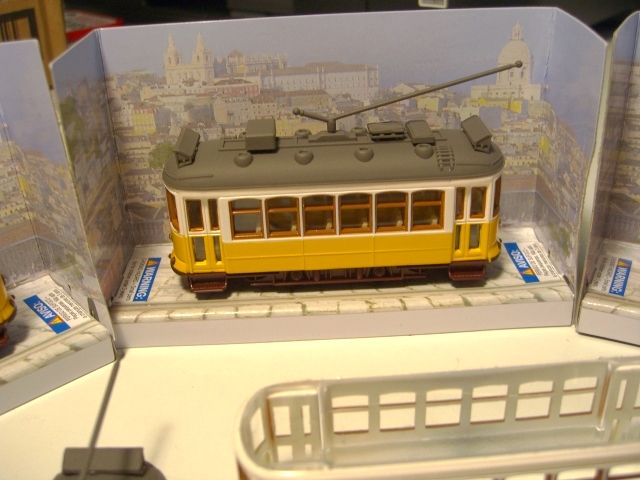 The plastic frame next to one of my small [Bandia (N-Scale) B-Train Powered Chassis3] Japanese power trucks.
6.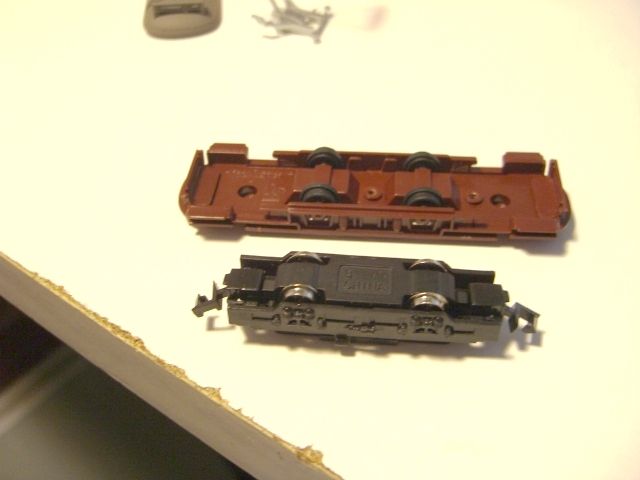 7.



Next step is install the Power Truck and Radio Control and Battery Power System. I know it will all fit but I have to give up the interior seating.

Last edited on Thu Oct 29th, 2015 05:49 am by Bill Fornshell