Lee B
That's really neat. So cool that they rebuilt it like that. It's always sad when I see a former church (or school building) for some reason. I think of all the weddings, funerals, and work the congregation put into it, and now it's no longer used for that reason (or any other, if it's abandoned). Only abandoned roads and RR tracks depress me more than that.
One of the things I wish I'd room to model was a church, as my layout takes place in the Blue Ridge area of Tennessee. That's called the "Bible belt" for good reason. Even to this day, there's a string of churches up and down every valley and community that would make you wonder if there were enough people to attend them all on a Sunday. Modeling that place in the 1940s, when my parents have confirmed everyone went to Church back then, it doesn't seem right not to have a church. But my layout is so small and I barely had room for even one good homestead, so a church never was anything I seriously looked into building. I'm not religious, but I really wish I'd room to justify building an old-timey church!
A little over an hour's drive from me is a tiny little (18X24 feet) Lutheran church that would be perfect to model, but would probably look odd without knowing it really is this small in real life: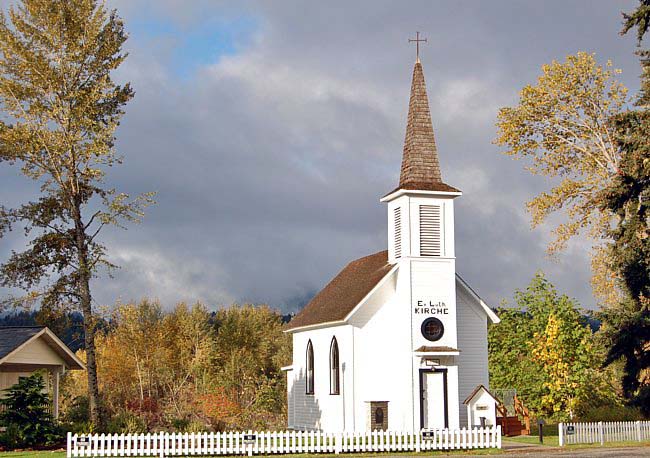 Lots of train fans have gone past this one, as it's right across a dirt parking lot from where people board trains at the Mt Rainier Scenic RR!



____________________
-Lee
http://www.freewebs.com/willysmb44/modeltrains.htm
https://www.flickr.com/photos/53587910@N05/sets/72157668176638961
Any photos missing from my posts are due to the greed of photobucket...